I was in China when the tornado devastated Moore, OK. I actually heard about it through Instagram first, one of the few programs I could get on while over there (I am @cutemomstuff). Once I got home I watched a few videos of the tornado and have been reading about the needs and the relief efforts. Many of you might have figured it out, but my sister Tiffany blogs over at MyLitter.com. She spent her birthday week organizing a semi truck to take a load of donations to Moore, OK.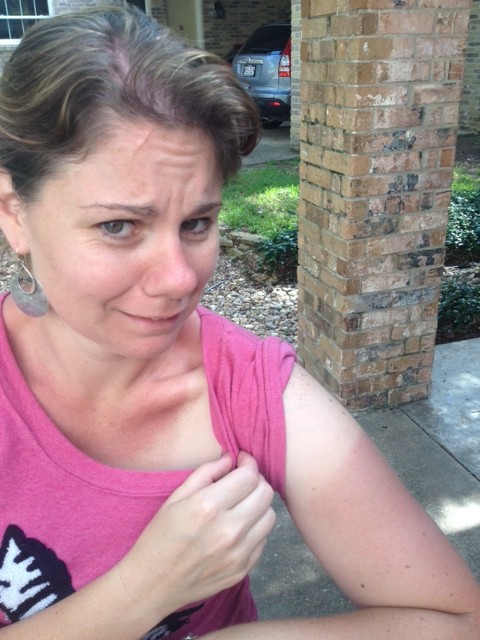 She got a little sunburned in the process but I am going to guess she feels like it was worth it. It's heart warming to read her blog and see the amazing things people did to help out. She couldn't have done it alone.   I am so proud to be an American, to be surrounded by so many people who do the right thing and help complete strangers out, and especially proud of my sister who can do this while working full time and taking care of 7 kids.  I wish I could have been there to help load the truck, but we couldn't
If you are like me and would still like to help, here are a few options:
::How to Help::
Red Cross – Register and find friends and family
U-Haul offering 30 Days Free Storage to OK victims
The Salvation Army care for disaster survivors and first responders. Text STORM to 80888 to donate $10 to the recovery and relief efforts.
In an emergency you want to text, not call because it uses less tower frequency and leaves the lines open for emergency personnel.
Also, if you want to donate to aid agencies, go online… don't text – online donations get there faster, text donations have to be billed through the cell phone companies and take longer to get there.
I hope you have a great Memorial Day and have a moment to reflect on this country and those who have died preserving our freedoms.  God Bless the USA!